Katsucon 2013 Review by Ross
This year was Katsucon's 19th and, to say the least it was an interesting one to which we will dive into later. It took place at the same location as last year and based on information we received from the hotel, it will be for years to come.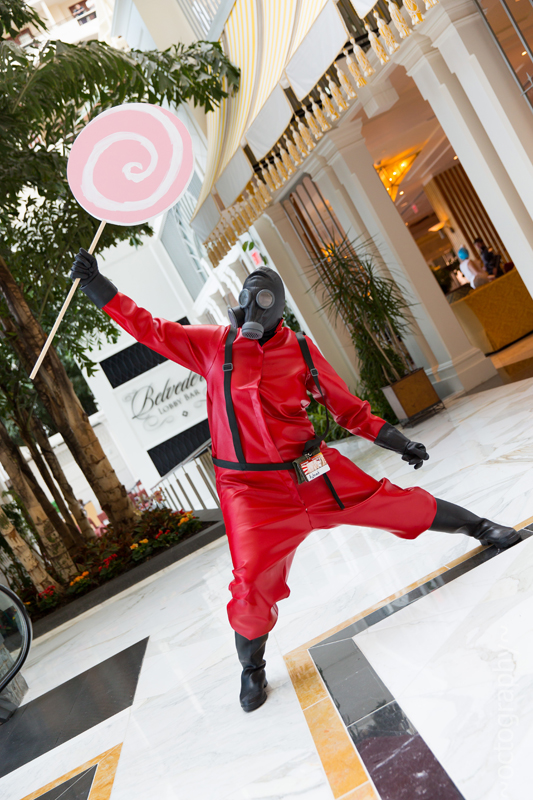 From the attendee viewpoint, the majority of the convention was plagued with issues due to sharing the space with another convention. For the purpose of not imposing any further issues on the other convention for problems that arose during due to the conflict between the two conventions, I will only be referring to the other as 'Convention B.' Since they received so much backlash for the issues post con, we do not wish to cause further flaming.
Either due to the arrangement of rented space or their assertion, Convention B had full control of the top level of the main convention space in the Gaylord National Hotel, which shouldn't be confused with the actual convention center space next door. This also included the marble area that is a normal walkway between the two sets of elevator that contains the gazebo. This space that they had occupied is (IMO) one of the main reasons that cosplayers come to the convention: beautiful marble floors, gazebo, regal looking doors all come together to giving a very palace like atmosphere. Very cool, but evenly lit indirect light make taking pictures here quite exquisite. I'd go so far to say, that because of the convention and hotel space, that cosplayers plan their outfit attire as well as possible outfit creation based on the ability to shoot here.
On Friday however, the Katsucon convention goers were not allowed up on this floor, despite the fact that it is a thoroughfare to some hotel rooms on this level, as well as elevators. A recurring theme that played out during the weekend were Katsucon attendees being told and cordoned off from entering certain spaces. This included one or both hallways that lead to the outdoor garage, two sets of elevators on one side of the hotel, and even floors where convention goers had rooms. We were informed on Friday night that Katsucon and Convention B had gotten together to work something out for us to get part of the floor to use. The hotel however, was not included in these conversations when they really should have been. The hotel knows who is allowed to section off what part of the hotel and even if they were allowed to, but were not there to help mediate this situation which caused a large amount of miscommunication between Hotel staff and convention staff.
Saturday morning came along for attendees to find that we had received ½ of the upper level which included the gazebo side, which the Katsucon staff had to fight for due to the popularity with the cosplayers. Again, this also allowed traffic through to get to parts of the hotel that guests had paid for by both groups. Up until this point, I had issues using lighting equipment as a cosplay photographer doing private shoots. Some security said it was ok, others said it was not allowed. Word to the wise: check directly with hotel management and get the OK before wasting time. Once you get that OK to do your work, it should make dealing with security a lot easier.
Sunday was the worst of the convention restrainment. Members of the Katsucon staff were nearly physically restraining it's own attendees from walking through various public hotel spaces- most importantly the main hall where convention goers would take their baggage to their cars after checking out. An analogy: imagine walking down the street, to have a random stranger tell you that you can't use the sidewalk and that you have to cross the street to go down the block. You look around, and see other people using the space but you are singled out because your shirt is a different color than the rest. The staff members had no legal right to prevent anyone from moving through any particular areas that are deemed 'public space'- such as elevators, hallways, or escalators. Hotel staff were not aware of this happening at all and would have put an end to it immediately if higher ups had been informed by attendees or their own staff. There is specific "Resort Police" to handle things of this nature, who were not involved either in this process. Fortunately, hotel mediation to the rescue.
We spoke to the a hotel manager on Sunday before we left, and they offered us a few things for the issues we faced at this convention: a slight discount on the hotel bill and sincere apologies. I can't even begin to say how professional it felt dealing with them after the treatment we faced this weekend. They made it appear that they knew where the problems of the weekend came from, and how to deal with it going forward. Though we were only informed lightly by the manager of some issues faced this weekend by the other convention, reports from close friends and around the internet gave us chilling news. This included the extent of damages the hotel suffered on floors that Convention B attended, reports of harassment, and even reports of sexual assault. It's actually rather terrifying considering the age of attendees in Convention B. We even had a chat with one of the parents of Convention B over the weekend, informing us that there was a very short "guardian to attendee ratio" for their group, meaning way too many underage people to manage, and not nearly enough management.
Due to all the above issues, we were informed by Gaylord Management that Convention B will not invited back next year, and hopefully after seeing the issues with combined hotel space, there won't be any more planning of shared convention space. With Katsucon growing larger every year, it will be a matter of time before they can no longer fit in the Gaylord. According to the manager, Katsucon is contracted to stay here through to 2018. By then there should be no problem filling the entire space and possibly more.
Besides the issues between Katsucon and Convention B, we were again pleased with dealing with staffing that wasn't involved in the mediation process with convention B. Events we attended were run smoothly, such as WCS prelims and the Masquerade. Even getting badges appeared to be faster for convention goers in comparison to last year. We must however give a shout out to Press staff was helpful and fantastic once again (thanks Chad!).
We branched out a little more this year and actually headed into the small shopping area outside of the Gaylord Hotel to find various small shops and food places. We frequented the sandwich stop named Potbelly a few times for comparably cheaper food, and there was also a cupcake store down there as well as some more upscale restaurants. If you walked a bit further you would have come across a McDonalds, but at least for myself that was a bit too far to make the trip for. Though if on a severe budget, your legs could save you money. Delivery is always an option as well, including several italian restaurants, pizza, and chinese, and menus are all available at the front desk.
What we look forward to next year is a return to the gleeful spirit type of atmosphere that we witnessed during our previous year here. Having the full convention to ourselves should eliminate the vast majority of traffic issues that we witnessed multiple times throughout the weekend. Not having to go around through different walkways should help out some people that have physical ailments that prevent them the luxury of walking far distances to avoid people. We knew of a few people whom the cold air of outside affects their joints, these people at certain points were told to walk around the entire convention space to use a different entrance to get in. In addition to the unpleasantness of having time wasted to adhere to this policy, these people were put into harms way while experiencing pain on top of it.
All in all however, I haven't heard any word of people not going next year based on the current year's events. With promise of the same issues not happening again, attendees should be putting aside a one-off bad experience as a learning adventure for all and look forward to a great show next year.