Youmacon 2012 Review by Ross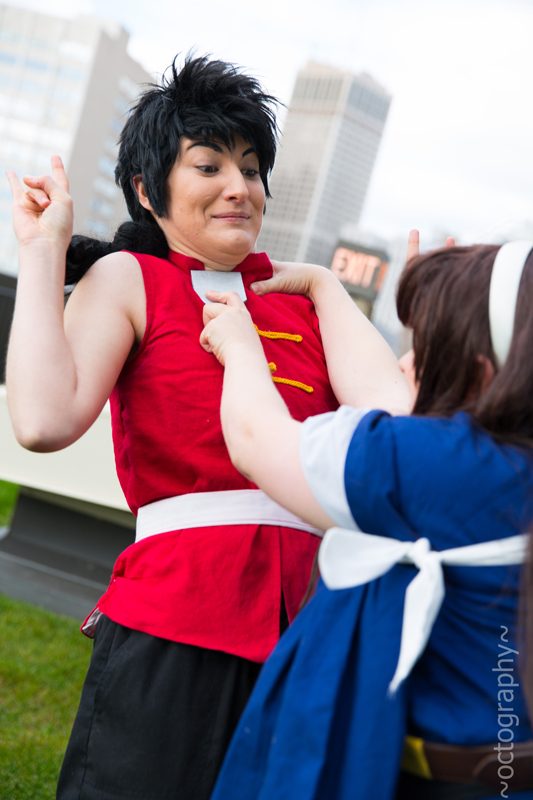 Youmacon 2012 - This convention takes place in Detroit, Michigan normally around Halloween. This ties in well to the meaning of Youma in Japanese: demon or monster. Youmacon claims that it is similar to most comic conventions, but puts additional focus on "Japanese popular culture and its influence on our own culture over the past few decades". Let's be honest about this here: I haven't been to a convention yet that doesn't in some fashion have an open embrace to similarly related hobbies in this field. Conventions, like the majority of the attendees, are happy to host people of differing tastes of fandom to mix and mingle with. It's part of what makes this scene what it is.
The main connecting hotel to the convention center is the Detroit Marriot at the Renaissance Center, which is where we stayed and will be focusing our view with. The first thing to talk about this year greeted us as soon as we walked through the door and got our rooms. "Here are your wristbands," is what we were told by the front desk. The hotel attempted to curb the overcrowding of rooms (due to insert choice of rumor here) by instituting a policy where you were only allowed on the elevator with this wrist band on. Here is a list of how many things can go wrong with this:
Considering that the average 18+ wristband lasts a night on any given person...they expected this to last as much as 3 days.
The defiant attendee whom will rip it off before even entering their room.
Inability to keep constant guards on shift to check wristbands (which included the Head Hotel Chef at some points of the day).
Easy circumventing of guards, mostly achieved through use of the stairwells between the floors. By climbing the stairs above the main floors, you could use any elevator of your desire on the lower floors. This became more progressively difficult around times of heavy usage, but the access was still available.
Besides the above quirks, the hotel is rather nice. There aren't too many rooms per floor (which is oddly shaped like a pie slice) but instead stacks some 73 floors high. There is no mini-fridge or microwave available. However, the relatively cheap entry price into the convention hotel and extremely cheap food available by visiting the bottom floor (which was open well past midnight) offered an on-site plethora of decent cheap food.
The convention itself offered an amenity list of autographs by industry folk, a yearly scavenger hunt, a name that tune panel, a cosplay ball with a ticket price (all of which went to a charity), and Japanese version of "Cosplay Chess" called "Cosplay Shougi". Your usual night events applied here with a rave on both nights, karaoke, and of course a masquerade.
Pricing for entry to the venue this year were as follows:
3 day at door badge $50/$60 (at door)
Platinum Badge $120
Daily badges which are only available at convention are $30/$40/$20 for Friday/Saturday/Sunday respectively.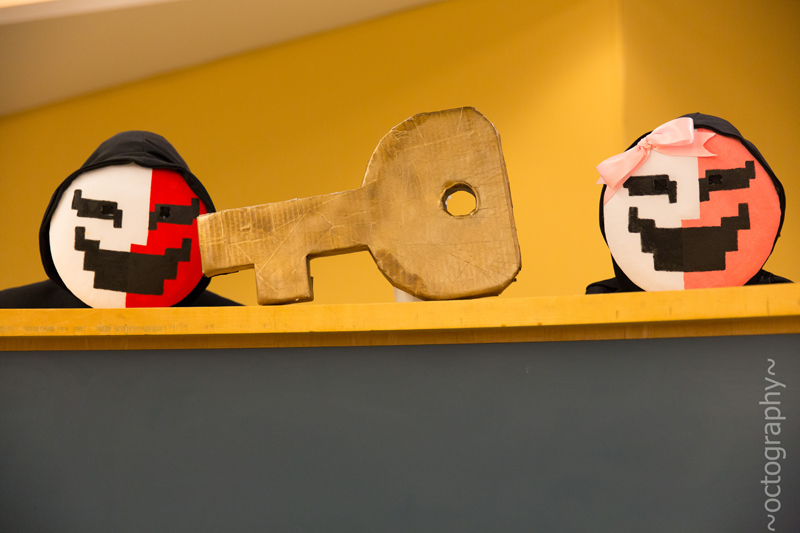 However, as we will attest to, our strong suggestion is to pre-register for the convention and arrive early on Thursday to cash in. As much as the convention itself was enjoyed by us (although to the new person it has a rather confusing lay-out), the efficiency system of getting a badge was atrocious. You can easily be standing in line for 2-4 hours or more for picking up badges via pre-registration or at-door registration. We were unable to locate the source of this efficiency issue for a convention whose annual attendance is that of around 12,500 people. Are more people needed? A revamped system? This is one set of issues we'd love to see resolved in upcoming years. We knew quite a few people that got bit by this issue, however, we were struck with our own issues.
The Press Signup system seemed to open up far later in the pre-registration cycle. If you want to get a press badge, but were unsure if you qualified, you were stuck watching the price of a pre-reg badge increase by 10-15 dollars while awaiting a form (which we had to fight tooth and nail to get) and then further than that to hear a response. When registration opened in January, we had no available Press registration until July and waited until last August for a reply- and even on the response end there was still confusion. While we were originally approved for press badges, we were told the Thursday night before the convention that we had media badges which required a payment along with the badge. When we arrived to pick up our media badges, we were given press badges. There seemed to be either miscommunication or a dropped ball somewhere along the lines when contacting the press attendees. If a convention wishes to help streamline a process with the people that a convention is dependant upon for advertisement and reviews, a little more information and some better communication far before the convention is certainly needed.
One of the nicest parts of the hotel/convention center is the "Wintergarden". Located on the eastern wing of the convention center, is a large glass window that extends about 3 to 4 stories up. There are overlooks to this area that go up two stories where many people can enjoy the view out that extends over the river that separates Michigan with Canada. Leaving the area through the ground floor puts you on to the shore with plenty of area to relax and possibly take some scenic pictures. However, given the mid-fall time and location temperatures outside normally range from mid 30s to mid 50s at best. A layered costume or clothes are recommended for extended time outside.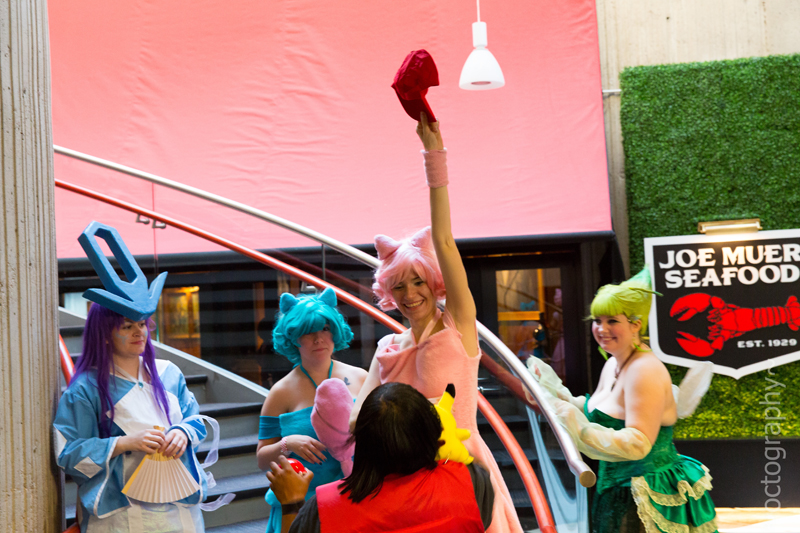 Despite the 10k+ attendance, I can say that there wasn't too many places where it felt crowded. However, as you go up in floors the "circular" paths get smaller, and these points near the escalators that go up and down floors are the places where congestion happens. Even with how nice and feels airy the Wintergarden feels, even it can get really crowded when photoshoots are happening. Speaking of photoshoots: there seems to be a policy on private shoots that is selectively enforced. During the day we didn't seem to have any issues taking pictures wherever we wanted. However, in order to not be in people's ways we waited until later so that there was less traffic. At that point (or after dark) there were uniformed officers enforcing a no camera/photo policy. This policy only extended parts of the convention hotel and we were instructed to relocated to an upper part of the wintergarden to finish up. It was there that the point hilarity ensued.
We look forward to writing more about this convention in future years to come.